If you've ever seen a Piñata cake, you'll know they're possibly the coolest cakes around. But this is not a "how to bake a piñata cake" kind of post. I could just as well have titled this post "how not to bake a piñata cake", or "fudge frosting mistakes".
But first, some background
I love to bake. When I'm not travelling and have access to all my baking tools, I bake at least once a week. That doesn't mean I'm an expert though. Far from it!
And sometimes when I see other people's stunning baking posts on Instagram, I wonder if all the time spent on this will ever be worth it. But I keep at it, simply because it's fun! So this is for all of you who have ever invested a lot of time into something but remain decidedly average. You're not alone!
Although I can whip up a mean red velvet cake, layer cakes involving other kinds of frosting are my nemesis.
Like the time I was going for this:
and ended up with a cake so bad, even the blueberries wanted no part of it.
So whenever I see a cake recipe with frosting, I'm like: But sometimes the recipe looks just too good to pass up. And then you figure, go big or go home, right? Especially when it's for a special occasion like a birthday.
I've been wanting to make a piñata cake for a while. It doesn't look that difficult, does it?
https://www.instagram.com/p/BRBjj4Pljkj/
Seriously, guys. Check out her Instagram if you want to start drooling uncontrollably.
Piñata Cake with Fudge Frosting
So I was going for this:
and ended up with this:
Maybe you're being charitable and thinking "it doesn't look that bad…" Wait, it looks worse from the top!
On a happier note, the butter cake itself was decent, so it wasn't a complete failure.
Here's the recipe and method (adapted from Sally's Baking Addiction because I wanted a 3-layer cake that wasn't too sweet).
Ingredients:
Cake:
323g all-purpose flour
1/2 tsp baking powder
1/2 tsp baking soda
3/4 tsp salt
258g butter
250g sugar
2 eggs
14g vegetable oil
3 egg yolks
2 1/4 tsp vanilla essence
270ml buttermilk (I didn't have any, but I used 3tsp vinegar and topped up to 270ml with milk)
Fudge frosting:
172g butter
400g icing sugar
5tsp milk
49g cocoa powder
1 1/2 tsp vanilla
3/16 tsp salt (use your powers of estimation for this one)
Note: since my fudge frosting turned out so badly, do not follow this part wholesale! I'll discuss some things I'd do differently below.
Filling: M&M's, Smarties, sprinkles, whatever you want to use.
Method
For the cake:
Pre-heat oven to 177 degrees Celsius and line cake pans (I used 8″).
If you're using vinegar and milk instead of buttermilk, measure and mix them now, then let the mixture stand for at least 5 mins. It should appear curdled when you use it in step 6.
Measure and mix the dry cake ingredients: flour, baking powder, baking soda, and salt.
Beat the butter on high speed for 1 min, add the sugar and continue beating for 5 mins.
Add the eggs and egg yolks one at a time, beating on medium-high speed after each. Add vanilla and oil and beat.
Add 1/3 of the buttermilk (or vinegar and milk mixture), followed by 1/3 of the dry ingredients. Repeat this step (alternating between buttermilk and dry ingredients), beating on low speed after each addition, until just incorporated.
Transfer batter into cake tins and bake for 25 mins or when a toothpick inserted into the cake comes out dry.
After cakes have cooled, cut a  3 1/2 – 4″ circular hole in two of the layers. (I used a mug).
For the fudge frosting:
Sift the sugar and cocoa (I didn't sift all the cocoa powder because it was taking way too long, so I just added the rest and stirred it around, but lumps of cocoa powder remained. Not sure if this contributed to the overall frosting failure!)
Beat the butter on high speed until it's pale (about 5 mins).
Add sugar and cocoa, vanilla, and salt. Beat on low speed for 1 min, then on medium-high for 3 mins.
Add milk 1 tsp at a time, beating on medium, until consistency looks about right. (I stopped at 5tsp because I was afraid it would get too watery and end up like my blueberry cake failure above. In a less hot and humid climate than Singapore, you could probably use lots more milk. Sally's recipe calls for 1/2 cup.)
Frost the first layer, including the inside of the hole.
Repeat for second layer (the other layer with the hole).
Fill the hole with assorted candies.
Put final layer on top and frost top and sides.
Decorate the top as you please!
What fudge frosting mistakes did I make?
In other words, why was my frosting neither smooth nor creamy?
Googling this question didn't really yield any direct answers, so I looked at different fudge frosting recipes. Based on those, I think my mistakes were:
Not beating long enough. Many recipes (like this) tell you to beat until "light, fluffy and of spreading consistency" (or something to that effect). I beat until the ingredients were combined, but I should have been more patient and continued beating longer. This is where having a stand mixer comes in super useful! (I'm now using a hand mixer as I killed my old stand mixer with a very tough cookie dough.) Using a hand mixer is like: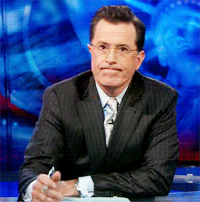 Adding too much sugar at once. Some recipes, like this, tell you to add it one spoon at a time and mix well. It's supposed to get lighter in colour and bigger in volume as you do this – which I didn't see. It's probably related to under-mixing (above) as well.
Not adding corn syrup. Sally's recipe calls for 1 tbsp of light corn syrup which she says makes the frosting "uniquely glossy and shiny". I didn't have any on hand, but next time I'd invest in some. Sure could've used some glossiness!
Not enough milk. Maybe, scarred from my blueberry cake experience, I added too little milk and the frosting was too dry and couldn't "fluff up" as a result? It basically had the texture of butter.
If I were to attempt this again, one other frosting option would be to use a boiled fudge recipe instead. Many fudge recipes call for melting the butter and sugar over low heat, adding the dry ingredients, and letting it harden as it cools. It's a completely different method, but worth a shot I guess!
And hopefully one day my frosting will look like this:
#goals
Have you tried making fudge frosting? Which method did you use, and did it work for you?
Liked this post? Pin it for later!
Save
Save
Spread the love, won't you?