Let's be clear: the Chugchilán to Quilotoa leg of the Quilotoa Loop is by far most difficult. And the previous legs (Sigchos to Isinlivi and Isinlivi to Chugchilán) are already full-day hikes themselves.
So, what can you expect?
You'll cover at least 13km (8 miles)
It will take you at least 6 hours, unless you're some kind of fit Superman – in which case this post might not be for you! Keep on doing your thing, while the rest of us are like this: 
An overall 1,100m (0.7 miles) ascent and 540m (0.3 miles) descent
The most intense feeling of achievement when you finally reach Quilotoa!
If you're impatient, like me, and would trade a shorter, steeper climb for a longer but less steep one, you can shave up to an hour off your time. Read on to find out how!
(Do these sheep look shocked to you? Ian had just started up his drone, which sounds like a very large swarm of bees, and they all froze and stared at us.)
Downhill
The first couple of hours from Chugchilán to Quilotoa, you're mainly going downhill.
Don't forget to take photos! Especially because the weather might well worsen later in the day, like it did for us.
You'll pass a few small villages on the way, where you can buy refreshments and even stay the night if you don't feel up to going any further.
Keep a lookout for signs saying Quilotoa and rocks with painted red arrows!
You'll inevitably get lost a few times, but you'll be able to tell when you've made a wrong turn after a few hundred metres (e.g. if you end up at someone's front door!).
This is why hiking buddies are a really great idea, so that you can take turns being the scout when you're not sure which path to take. (If you're travelling alone, don't worry – it's super easy to find hiking buddies along the road and at each hostel you stay in along the Loop. Strength in numbers is a real thing!)
A Foggy Day in
London Town

the Middle of Nowhere

Eventually you'll come to a little pine forest – literally a small patch of pine trees in otherwise open fields. You can't miss it!
As you can see, by this time it was getting increasingly foggy and we couldn't see more than a few hundred metres in front of us. The smell of rain hung heavily in the air and we knew it was just a matter of time before the inevitable rain.
A Controversial Shortcut
We ended up on a dirt road and by a stroke of luck, met two hikers going in the other direction. They were picking their way down a steep slope, and told us that Quilotoa was up that way.
Our directions indicated that we should stay on the dirt road until we reached Quilotoa, though.
One of our hiking buddies consulted her trusty offline GPS. It showed that we could either go straight up the side of the mountain, which was a more direct route, or follow the road, which was obviously less steep but a lot more winding.
Here we couldn't reach a consensus on which way to go. Some wanted to stick to the directions, which meant an easier (if longer) hike and the certainty of reaching Quilotoa. Remember, by this point we'd already been hiking for hours and gotten lost a few times, so it was perfectly understandable.
Others just wanted to reach Quilotoa as soon as possible, even if it meant far more pain in the short-term. I was tired and grumpy (and frankly sick of the hike) by this point – so it was a no-brainer for me.
So our little group, that had stuck together all this time, regretfully split up and we headed our separate ways.
The Only Way Out is Up
That slope probably doesn't look terribly steep to you. But in a matter of minutes, I was wheezing for air and had to stop every 20m (65ft) or so to get my breath back. It felt like someone had very stealthily stolen half my lungs, and I was only just now realising it!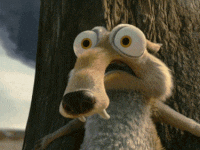 Luckily for me, the rest were in only slightly better condition, so we all progressed at the same pace.
Bear in mind that the altitude here is over 3000m (9800ft), so that was definitely a factor. Just take it easy and stop for breaks as often as you need to. You're still saving a lot of distance (our friends who stayed on the road reached Quilotoa much later).
The next few hours passed in a blur for me. I don't know exactly how long we took to climb that slope – it could have been 20 minutes, but it felt like hours. Like a mantra, I kept repeating to myself – the only way out is up! 
I do know that after a while, we caught up with some fellow hikers who had overtaken us much earlier in the day. Or rather, they caught up with us! They came from behind us on another path, so they didn't take the crazy slope shortcut.
And then – oh joy!
Don't get too excited just yet, though – it's still some way away.
The terrain inexplicably changes here – suddenly there's lots of sand, and you could almost believe that you're in the desert.
Just keep going, and soon you'll find yourself at the crater rim.
Oh, and don't forget your rain gear!
Quilotoa Lake
Rather underwhelming, right? Blame it on all the rain and fog! Fortunately, we got much better pictures the next morning. Pro tip: take your pictures in the morning!
The unique blue-green colour of the lake is what makes it probably the most photogenic lake in Ecuador. Locals say that the lake has no bottom – looking at it, it seems almost plausible. It's extremely alkaline, so there are no fish, but they said you can take a boat out.
You can hike all the way around the lake, but we didn't have time for that. According to Lonely Planet, you can do it in about 6 hours if you're fit.
Distance covered from Chugchilán to Quilotoa: 13.1 km (8.1 miles) in 7 hours.
Quilotoa – the Village
It took us another 50 minutes after our first glimpse of the lake to reach the village of Quilotoa, walking around the rim. It was freezing and I couldn't feel my hands (rain-related, I think!).
There's no shortage of accommodation options. We got a room at Hostal Pachamama (US$15 per person per night, breakfast and dinner included), but others in our party went next door to Hostal Chukirawa (US$25 ppn).
The latter was obviously more upscale, but for US$15 a night (one of the cheapest options around) I was pretty happy with Hostal Pachamama. It had hot showers and a fireplace which was perfect for chilling out and chatting with other hikers.
Dinner wasn't as generous as Hostal Cloud Forest or Llullu Llama – just soup, main dish and tea/coffee, no dessert. It was enough for me though.
Getting out of Quilotoa
To get back to Latacunga (where you start and end the Loop), there are hourly buses along the main road – you have to walk out of the village and wait by the highway. The bus ride took 2h 45min and cost US$2.50.
You can also catch a ride from camionetas (pick-up trucks) from the village, which cost US$3-4 (negotiable).
If you have the time, consider visiting Zumbahua (14 km south of Quilotoa) before heading back to Latacunga. It has a (relatively) famous and authentic Saturday indigenous market. It's also easy to catch a bus there from Quilotoa. We gave it a miss, though, since it wasn't a Saturday and we'd already been to a market town on non-market day.
Over to you! Are you a fan of shortcuts? Have you taken any shortcuts that turned out badly? Or would you just stick to the road? Let me know in the comments!
Oh, and before I forget – I've got exciting news! I've just started a monthly newsletter for those of you who would like exclusive real-time updates (since this blog is wayyyy behind real time) and highlights of the month – top blog posts from MichWanderlust as well as my favourite posts by other bloggers. Sign up on the right! ➡️
Liked this post? Pin it for later!
This post is part of The Weekly Postcard hosted by Travel Notes & Beyond, California Globetrotter, Toddlers on Tour, Two Traveling Texans and TravelLatte – check out what's going on elsewhere!
Spread the love, won't you?