There are plenty of good reasons to visit Liana Lodge in the Ecuadorean Amazon.
For one, it's a great example of responsible and sustainable tourism, as it's run by a Swiss foundation whose objectives include preserving and protecting the rainforest, and implementing sustainable rainforest management in the local Ahuano community.
I had an additional, very personal, reason to check it out.
When I was planning my South America trip, I knew that volunteer work would be part of it. Eventually, it came down to two very different options, both coincidentally in Ecuador.
I went to Intag to teach English, but I couldn't leave Ecuador without checking out what might have been: an animal rescue centre called Amazoonico.
And how does Liana Lodge come in, you say? Both the lodge and Amazoonico are run by the same foundation!
Ideal for the time-pressed traveller
If you don't have much time to spend in the Amazon, Liana Lodge would be a great way to get a taste of it.
We spent 2 nights at Liana Lodge, which means 1 full day of activities. It cost USS$194 per person – all activities and meals included. You can of course opt for a longer stay!
It's not the cheapest option out there (I did a 4D3N tour with Nicky Lodge in Cuyabeno for $280). But it was worth it for me because I didn't have that much time, it was for a good cause, and I really wanted to visit Amazoonico!
Is this the most beautiful jungle lodge ever, or what?
I was immediately blown away by the villas. The bright colours of the room give it a cheery air and immediately make you feel at home. Unlike some other lodges *cough* Nicky Lodge *cough*, here there's plenty of privacy with only 2 beds to each room.
Oh, and each room has a hammock! *happy dance*
This is basically me in a hammock: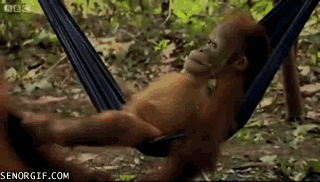 Don't mess with my hammock, guys. PRIORITIES.
Much of the lodge, including the chairs you see above, are made from local tree species and hand-carved. Well, if you're in the rainforest, it kinda makes sense, right?
There's no wi-fi, but that's normal in the Amazon. Go on a digital detox and immerse yourself in the beautiful surroundings!
Have a drink at the bar, explore the lodge, play the (somewhat out-of-tune) guitar.
And if you get bored, refer to the hammock above.
I still dream about this breakfast sometimes…
Best. Breakfast. Spread. Evahhhh. (Ok, the Nicky Lodge one was pretty good too! But because we had a fixed schedule there, I could never linger as long as I'd like over breakfast. Yes, I'm a lingerer.)
If you're ever in Ecuador, promise me you'll try fried yuca (cassava). It may not look like much (above), but it's delicious.
Hike to Rio Rodriguez
You have a whole menu of activities to choose from, like visiting a local community, fishing and gold panning, and raft-building. But we like hiking, so we picked the longest hike available (approx. 5 hours).
A couple of Amazoonico volunteers wanted to join us and we were more than happy to have them along. I got to hear all about life as an Amazoonico volunteer, which I almost was!
Our guide, Juan, was from the local Ahuano community and showed us traditional uses for the plants. E.g. they weave these leaves to create a thatched roof. The water just rolls right off!
The tree below was really bizarre. What do you think?
It's not painted – that's its natural colour! Yep.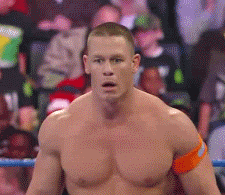 In terms of difficulty, the hike was nothing compared to the Quilotoa Loop. (It helped that we were, you know, at sea level.)
My main concern was slipping and falling as the ground was pretty wet. It's the rainforest, after all! It rained a bit during the hike too, so (at the risk of sounding like a broken record) rain gear is a must.
We had lunch by the Rio Rodriguez. It's main selling point is the crystal-clear water, but that day it was anything but.
Recent heavy rains had made the water all muddy, but that didn't deter the others from taking a dip in the river. I was all no thanks, though.
We had lunch there – a nice boxed lunch and salad served on a leaf! I really appreciated the effort to go plastic-free.
After lunch, we hiked up to a viewing point, where we eventually emerged from the trees to see… more trees.
That's the Amazon for you!
After that, we made our way to Amazoonico. You have to pay a small entrance fee of US$2.50 or so per adult, but it comes with a free guided tour by a volunteer.
All proceeds go to offsetting the operation costs of the rescue centre, so I was more than happy to support them. (If you stay at Liana Lodge, you're indirectly supporting Amazoonico too since they're run by the same foundation.)
Our guide was a guy from Quito and it was his first tour in English! I thought he did really well.
Background
The Ecuadorean Ministry of Environment sends confiscated animals to Amazoonico. They come from e.g. the black market, or homes where they were being kept as illegal pets.
Amazoonico tries to rehabilitate and release these animals into the forest reserve owned by the same foundation, but for many, behavioural and physical problems make this impossible.
In those cases, they are essentially stuck at Amazoonico for life, albeit in the best living conditions possible.
Here are some of the animals we saw:
Monkeys

There are spider, capuchin and woolly monkeys. It was pretty sad when our guide pointed out those who couldn't be released, either to due to aggressive behaviour or some physical/mental impairment. The monkey above was one of those.
Toucans
Macaws
Ocelots
Arguably one of the show-stealers here. Aren't they beautiful? They have a pair of ocelots, and we were very lucky to see them. They came out and walked around although it was raining!
Tapirs
SO CUTE. Especially the baby! His stripes will disappear as he gets older.
Other animals we saw included pecaris (like pigs but very aggressive) and jaguarundis (small wild cats). I didn't take many photos, though, because of the rain.
Our (original) guide Juan then walked us back to Liana Lodge. It's only about 10 minutes away, so if you're staying at Liana Lodge, Amazoonico is a must-see.
Do I regret not volunteering there?
The short answer is: no.
I chose Intag because one of my main goals was to improve my Spanish and really immerse myself in a local community. Amazoonico – made up as it is mostly of international volunteers – wouldn't have allowed me to achieve those goals.
Plus, in Intag the kids are lucky to have English volunteers once or twice a year, whereas Amazoonico seemed pretty well-staffed.
But if you have a passion for animals and don't care about the Spanish immersion thing, I'd recommend checking out Amazoonico. The volunteers all spoke very highly of it and seemed really upset about their eventual departure.
How to get to Liana Lodge
From Tena, take a bus to Puerto Barantilla. Note that the bus terminal isn't the main bus terminal – it's 2 blocks down, but not hard to find.
There are a number of daily buses to Puerto Barantilla. We took the 1.30pm bus and the journey took about 1h25min.
You need to ask the bus conductor to tell you when you reach, as it's not the end of the line. I basically kept reminding him every time I saw him, and we got off with no problems.
This is the Puerto Barantilla stop:
On the left side of the road, you'll see a shelter.
From the main road, turn left into this nondescript path. Go straight and don't take the left-hand turn going downhill.
You'll arrive at the river, where a canoe will be waiting to take you to Liana Lodge. The boat ride takes about 5 mins.
Not too painful, is it?
Have you been to the Amazon or volunteered at a similar animal rescue centre? What was it like?
Liked this post? Pin it for later!
This post is part of The Weekly Postcard hosted by Travel Notes & Beyond, California Globetrotter, Toddlers on Tour, Two Traveling Texans and TravelLatte – check out what's going on elsewhere!
Save
Save
Save
Spread the love, won't you?